Travel Recommendations
Cusco & Machu Picchu
Arriving in Cusco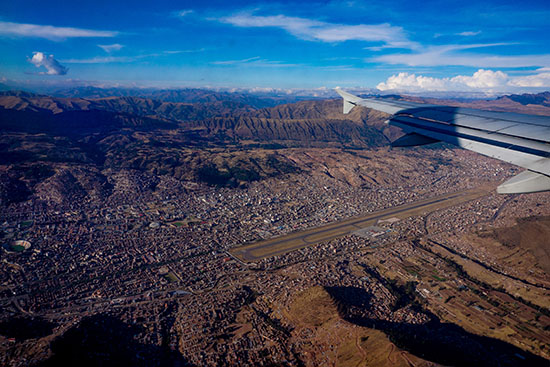 Cusco is a city high up in the Andes (altitude: 3 400 m.a.s.l.), and about 1 160 km from Lima, the Peruvian capital. The bus ride from Lima takes at least 20 hours, as you will have to traverse the Andean mountains. It is recommended that you choose a bus equipped with wide, high-degree reclining seats from reliable bus companies like Cruz del Sur, TEPSA or Oltursa for such a long ride. In contrast, a direct flight to Cusco takes about one hour.
On arrival, your host family will pick you up. Your host family will also take you to our language school on your first day of class. The transfer from the airport, bus terminal or train station is of course always included in the package. We will gladly help with the organization of your journey to Cusco. Just let us know.
Visa, entering the country
Your passport should be valid for at least another 9 months, counting from the start of your journey. Travelers from Germany, Switzerland, Austria and most other European countries do not need a visa to enter Peru. When entering, you will get an entry stamp, which permits you to stay a maximum of 183 days.
IMPORTANT: We recommend that you make sure at passport control that you get a permit for 90 or 183 days. Sometimes, the immigration officer may randomly assign only 30 or 60 days, depending on how you answer his or her questions. Tell the immigration officer in a friendly and polite manner that for personal reasons, you wish to stay for 90 or 183 days in Peru.
Money
The Peruvian currency is called Nuevo Sol S/. The US-Dollar is also an accepted currency in some businesses and stores. Aside from regular money exchange houses, you can also exchange currencies with officially registered "Money Changers" (Cambistas), who can be found on the street wearing distinguishable vests from their respective districts.
For current official exchange rates, click here or here
Credit cards:
In Latin America, VISA-cards are the most commonly used credit cards. Still, Visa, Mastercard, American Express and Diners are accepted without problems in many restaurants, hotels and service providers.
Vaccinations, travel insurance
The German foreign ministry recommends vaccinations against Tetanus, Diphtheria, Hepatitis A, Rabies and Typhoid.
A vaccination against Yellow Fever is obligatory for the whole Peruvian Amazon region. Apart from the Ayacucho-district, all endemic areas are in the Amazon region, east of the Andes. We recommend to bring your vaccination card with you to Peru to prove that you have been vaccinated. If you travel to the Amazon without vaccination, you risk being denied entry, quarantine or compulsive vaccination. You can always get a vaccination in Cusco, but prices and availability vary.
If you want to bring a first aid kit with you, reduce the contents to a minimum: Aspirin, charcoal pills, Imodium, Soventol, Mobilat, etc. The pharmacies in Peru offer a broad range of international medications, mostly without prescription and cheaper than in Europe or the USA.
Health and travel insurance
It is advisable to have overseas health insurance that covers medical assistance and hospital stays. Talk to your travel agency for options; baggage insurance is also recommended.
Weather, clothing
The Peruvian Andes have two seasons: a dry and a rainy season. The first rain drops fall between November and December. January, February and March are mostly quite wet. But it is amazing how quickly the sky clears up after a hefty shower and the sun starts shining brightly again. The temperature varies between 12 and 25 degrees Celsius.
The dry season, Peruvian winter, lasts from May to October. Especially in the high Andes, the temperature differences between day and night, sun and shadow are extreme. During the day the sun makes you sweat, however the nights are really cold. This is especially true for June and July, when temperatures outside the city sometimes drop below zero. In the coastal region, summer starts in December and ends in March. Temperatures vary between 25 and 34 degrees Celsius.
Whenever you visit Cusco, you'll need clothing for warm as well as cold weather. Absolutely necessary are: sturdy shoes, rain coats, sun glasses, sun screen, lip balm, and rain clothing for the months November – April.
Safety
Cusco and its surroundings, as well as the other tourist locations in the country are considered safe for travelers overall. Even the overland buses are increasingly being used by tourists. Cusco, as all larger cities, have a special tourism police. However, pickpockets on the lookout in touristic areas are definitely not uncommon.
Pickpockets have a good eye for when you are distracted. So take care of your possessions when visiting crowded places like bus- or train stations, markets or festivals. Do not walk around alone in dimly lit and empty streets. Do not use your phone while wandering around the city distracted. When sightseeing or taking a day trip, leave your documents, passport, cards and valuables in the hotel. When travelling, keep your documents and valuables on you. Do not store them in bags or purses.
After your arrival in Cusco, you will receive a copy of your passport, certified by the German consulate in Cusco. Your valuables and documents can, of course, be stored in the ACUPARI safe.