Inca Trail
The Inca Trail, Qhapaq Ñan in Quechua, extends to more than 30 000 kilometers across Colombia, Ecuador, Peru, Bolivia, Argentina and Chile. This road system was built over many years mainly by the Incas, although some sections were built by other cultures preceding the Inca empire. The Inca capital of Cusco lied in the center. Qhapaq Ñan connected Cusco with a number of production, administration and ceremonial hubs throughout the empire.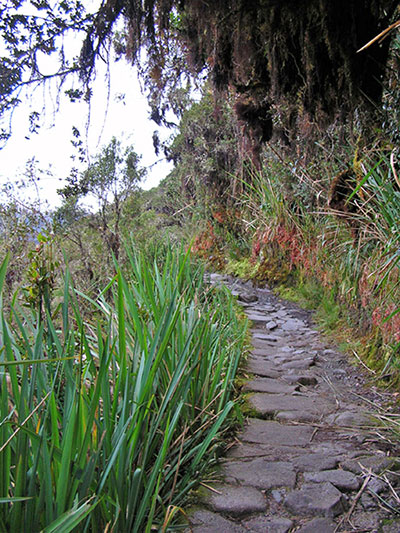 The Inka Trail is the most popular trekking tour to Machu Picchu, and a UNESCO World Heritage Site. However, due to high demand, the trail must be booked many months in advance, as the there is a limit to the number of trekkers allowed at a given time.
4-day Inca Trail trek
If you choose to take the authentic way to Machu Picchu, you can do so with a 4-day, 40 km long trek on the old Inca pathways. The former trade route of the Incas is filled with breathtaking flora and fauna as it traverses lush tropical rainforests to the sparsely vegetated highlands, where you can have a spectacular view of the Veronica glacier. You will come across many 4 000-meter-high mountain passes, various Inca sites as well as the Lake Yanacocha before arriving to Machu Picchu on the fourth day early in the morning. Just a heads up: it's very cold at night, whereas during the day the sun relentlessly beats down on the highlands.
We book and organize tours around Cusco to local prices only for students of our Spanish and Quechua programs.
2-day Inca Trail trek
This trekking tour takes you to the less strenuous section of the Inca Trail, skipping the high altitude mountain passes of the 4-day trek. The Inca-built pathways lead along the Urubamba gorge, where the eponymous river takes its course. The highlight of the trek comes once you get to the Sun Gate "Inti Punku": A unique and unforgettable view of the Citadel of Machu Picchu resting on a mountain ridge.