Salkantay Trek
We book and organize tours around Cusco to local prices only for students of our Spanish and Quechua programs.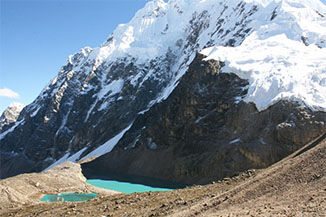 The Salkantay Trek is a 4 day trek, though we recommend doing it in 5. It can be booked at short notice. You will stumble upon only a few tourists along the way and you can easily get in touch with the locals living in remote towns nearby. The trek ends in Aguas Calientes, the small but extremely touristic village in the Vilcanota Valle and gateway to Machu Picchu.
In comparison, the Inka Trail is the most popular trekking tour to Machu Picchu, and a UNESCO World Heritage Site. However, due to high demand, the trail must be booked many months in advance, as the there is a limit to the number of trekkers allowed at a given time.
The Salkantay Trek is therefore a great and not less impressive alternative route to Machu Picchu.