Santa Teresa Trek
Santa Teresa Trek
…also known as the "Inca Jungle Tour" to Machu Picchu.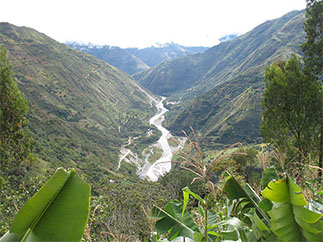 Biking, hiking, zip lining, hot springs. This fantastic 4-day trip, virtually a back door to Machu Picchu, is a thrilling experience.
The tour starts with a bus ride from Cusco to the town of Ollantaytambo in the Sacred Valley of the Incas. While from this point onwards only trains travel through the narrow Urubamba Valley to Machu Picchu, the road wriggles its way uphill, reaching its highest point in the Malaga Pass at 4 350 meters above sea level. Around noon, we begin our ride downwards on winding roads, leaving the sparse Andean highlands for the subtropical rainforest below. Passing by plantations of banana, papaya and of other kinds of fruit, we finally arrive to the little village of Santa Maria. If you want, you can hop on a bike at the Malaga Pass and cycle downhill in the open air.
The 7-hour hike from Santa Maria to in Santa Teresa leads through tropical forests, valleys, rivers, small villages as well as coca, coffee and fruit plantations. In the afternoon, you can take a relaxing bath in the hot springs of Colcamayu. The final stretch to Aguas Calientes crosses the Urubamba River by adventurous bridges as well as an improvised cart and pulley (pulled by hand) before reaching the hydropower plant. Here, trains depart to Aguas Calientes. Alternatively, you can take a 4-hour hike to Llactapata to get to the train station by the hydropower plant from there. If you don't want to take the train, you can walk to Aguas Calientes as well. This will take about 2 hours total. The path goes along the Urubamba river and sometimes follows the railway tracks. You will come across exotic tres, waterfalls and some farmhouses along the way. The final ascent to the rediscovered citadel of Machu Picchu begins the next morning at 5:00 am.