Spanish while travelling
Spanish Courses
Anyone travelling in Peru or South America needs to have at least some basic Spanish skills to get along well during the trip. Even a short stay at our Spanish school in Cusco is sure to prove useful to your journey in Peru.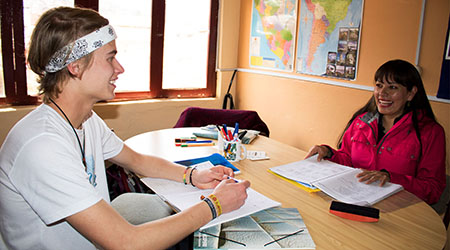 Take a one-day Spanish crash course, or choose how many days you like. It does not matter if you have little or no Spanish skills, you can take a crash course and learn useful, everyday Spanish, one-to-one or together with your travelling partner.
The course consists of individual modules of two lessons each. Not only will you learn Spanish expressions, idioms and phrases for everyday situations, but also Spanish phonetics and simple dialogs. You can book as many modules as you wish, of course.
Courses start
Any time
Price per module
18 EUR for two one-to-one lessons
11 EUR for two lessons in a partner group, per person
Our courses help us support our Children's book Project, aimed to promote reading and literacy in remote Andean communities.