Spanish & Volunteer Work
Spanish & Volunteering
If you have more time to spare and if you are looking for more immersion into Peruvian life and culture, then volunteering is often the way to go.
Important: We arrange internships, medical clerkships or volunteering work only in conjunction with a Spanish course.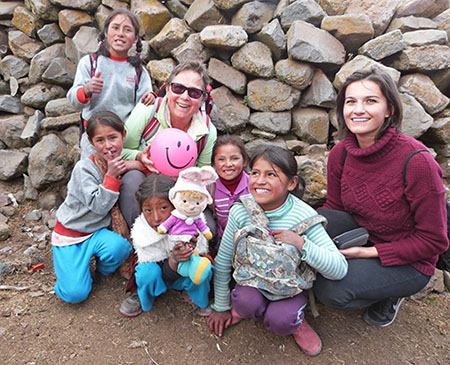 One month is usually the minimum duration of volunteering programs. From experience, we recommend to plan at least two to three months for volunteer work in social projects.
We charge a fee of EUR 120,- for arranging a volunteer placement.
In the case of medical clerkships, the fee is EUR 160,-
As a cultural institution, our Language School is a non-profit institution. The fees help us support our partner organizations for volunteer work, as well as our own Children's Book project, aimed at promoting reading and literacy of children in remote andean communities.
Your Spanish course can be one-to-one, or in a small group.
Courses start
Small group: Every monday
One-to-one or in pairs: Any time
Time schedule
20 lessons per week, 50 minutes each
Monday to Friday from 09:10 am to 12:50 pm
Coffee break every day in-between lessons, with local snacks, hot drinks, the traditional coca tea and more.
Prices
| | | | |
| --- | --- | --- | --- |
| In EURO € | per week | Small group | One-to-one |
| 1 week | 20 hours | 145,00 | 250,00 |
| 2 weeks | 40 hours | 290,00 | 490,00 |
| 3 weeks | 60 hours | 420,00 | 720,00 |
| 4 weeks | 80 hours | 560,00 | 950,00 |