Tandem in Cusco
Tandem
Tandem - practice with Peruvian Language partners
Conversation is a valuable vehicle where you and your tandem partner advance your language learning via a partnership. It is an interactive language learning method, which involves two people from different language and culture backgrounds to practice and build language skills that create a bridge bringing their languages and countries closer.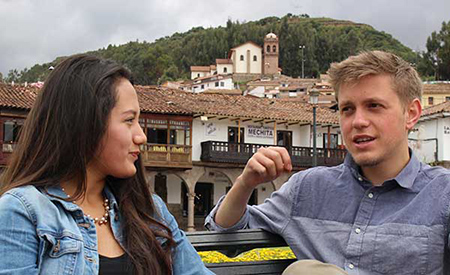 The fundamental idea of Tandem conversation is simple: "I help you to learn my language, you help me to learn yours, and we learn to understand each other". By practicing and speaking together each other's languages, both partners in the tandem learn and develop the new language.
Complementary to your language program, Tandem conversation becomes an integral method, which helps create a forum for intercultural understanding and incorporates the social-cultural background in the learning process. It´s optional and free!
ACUPARI is a member of TANDEM International. Our school has received the quality seal of the international network after a successful quality evaluation conducted by two representatives of TANDEM Schools in South America. The evaluation takes into account teaching methods, curriculum, location, finances, administration, marketing strategies and complaint management of the language school. In order to be certified as TANDEM School, language schools must offer a Tandem Programme and be committed to democratic values, social engagement, environmental protection and cultural mediation. TANDEM International member schools support each other in their aim to convey language and culture of their individual countries. On a professional level they contribute to the shaping of a world where people value their difference.